CrN Thin Film: Production and Applications
CrN thin film, produced by our HCD (hollow cathode deposition) process, is availible up to 15 microns thick for your tool coating applications. CrN is produced by our NTH-1000 using the same ion plating process as TiN.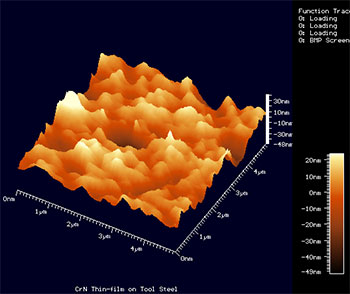 4 um X 4 um Scan of CrN Thin-film on Tool Steel
Process Characteristics
Process temperature: 200-500&#176 C
Thickness of CrN film: 2-20um
Maximum deposition area: 200mm dia. X 400mm height
Materials that we can coat with CrN:

machine tool steel
high speed steel
stainless steel
WC-Co
CrN is produced by the electron bombardment of a chromium source by hollow cathode discharge. The resulting evaporant reacts with nitrogen gas which is continually feed into the chamber. The resulting thin film can be CrN, Cr2N, or a mixture of both, depending on the mass flow rate of nitrogen used during the deposition.
Compared with TiN thin film, CrN offers a lower coefficient of friction as well as greater resistance to lock-up during movement. As such, CrN thin film is more suitable for tribological applications. CrN also offers greater thermal resistance and acid-base corrosion resistance than does TiN thin film.
Friction test with tribometer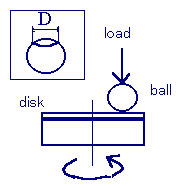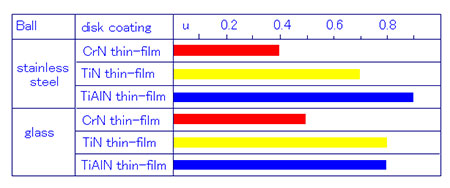 Current Applications
Molds and dies

press molds
rubber forming molds
glass forming molds
drawing dies

Mechanical Parts

piston rings
compresser shoes
pump pins
pump plungers
textile machine parts

Cutting tools

copper alloy processing tools